Posts Tagged 'link roundup'
Read Bike Portland's dispatches from the National Bike Summit
San Francisco can very definitely afford bike infrastructure, according to this Green Lane Project infographic.
Register for Bike to Work Day 2014!
Winter will never go away. Fortunately, there are endless tips on how to handle winter riding. Here are some from WTOP.
Er, well, maybe winter will eventually exit and the cherry blossoms will bloom. Keep your eye out for this be-blossomed pink Bikeshare bike.
Photo by Flickr user Joe in DC. Join our Flickr pool!
Sneckdowns are serious business.
See one man's quest to get Montgomery County to clear the Capital Crescent Trail in event of snow.
The D.C. Bicycle Advisory Committee has some damning comments regarding the city's work on bike infrastructure.
How significant of an issue is air pollution to cyclists?
Though public shaming via social media was necessary to get the city to clear the Pennsylvania Avenue bike lane…
DDOT staffers got on it.
Image via Flickr user PedroGringo. Join our Flickr pool!
Following a crash in Minneapolis that resulted in a cyclist's death, this blog says it's not about whether the cyclist was riding safely.
Harriet Tregoning did much to further better bike infrastructure in D.C. She's also a devoted Brompton rider.
WABA bike ambassador Pete explains why giving cycling a voice (literally!) is a great thing.
Traffic signals give priority to cyclists in the Netherlands, of course.
Another driver drove on the W&OD Trail.
If you haven't already, please sign our petition to encourage the District Department of Transportation and the National Park Service to fix the Rock Creek Park Trail.
Photo by Flickr user Joe in DC. Join our Flickr pool!
Y'all bike when it's cold outside.
D.C.'s spirit animal of bike lanes, the snowy owl, was hit by a bus.
Georgetown's getting more bike corrals.
The Maryland Department of Transportation is rebuilding the Susquehanna Amtrak bridge. Sign this petition to ask that it include bike lanes.
Yet more still on the King Street bike lanes.
Need a bike valet? There's a local business for that.
Photo by Flickr user BikeEveryDay. Join our Flickr pool!
Use M.V. Jantzen's interactive tool to play with Capital Bikeshare data from 2013.
The League of American Bicyclists has a new mission statement.
This documentary is a trifecta: transportation, gentrification, and funded by Kickstarter.
The saga of the King Street bike lanes continues: The plan will be subjected to two more hearings.
DDOT did not do a very good job clearing D.C.'s bike lanes of snow.
The Bicycle Story profiles friend of WABA and Friday Coffee Club co-founder Mary Gersemalina.
Bixi's finances are in a bad place, but Capital Bikeshare says it'll be just fine.
Hey! Come to our happy hour next week! Bikes, beer, and Gordon Biersch—it'll be a great time.
Photo by Flickr user Aimee Custis. Join our Flickr group!
Why does America hate bikes?
Regardless, the Alexandria Times editorializes that bike lanes are the future.
Ground glass (!) makes this bike jacket ultra-reflective.
Our friends at BikeArlington are hiring. If you like the kind of outreach we do, go do it (and more) for BikeArlington!
Handy tip: Did you know that every Presta tube has a Presta valve adapter?
Bicycling goes deep on the new frontier of bike-lock technology.
Image via Tumblr
The Bicyclist Safety Amendment Act of 2013 made some changes in laws for D.C. bicyclists. Read about them here.
Jerry Seinfeld told Reddit he loves biking and walking.
WMATA is expanding its bike-and-ride facilities. (Maybe it would also consider some of these?)
Infrastructure ain't nothing but bike lanes in the sky.
There's a Kickstarter for a locally built e-bike.
Single-digit temperatures didn't stop people from riding Bikeshare. (For next time, check out some concise cold-weather advice.)
Photo by Flickr user Joe Flood. Join our Flickr pool!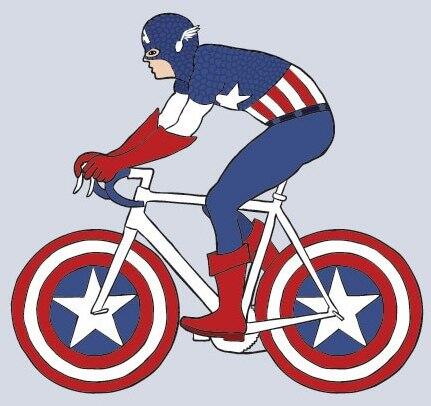 Kidical Mass Arlington wasted no time getting a ride underway in the new year. See a recap here.
With the federal transit subsidy slashed, the Washington Post editorial board asks why drivers should receive bigger subsidies than mass transit riders.
Ye olde D.C. bike messenger
We regularly feature Flickr user joeflood's photos on our blog. See a collection of his bike-y photos in his 2013 roundup.
The Capital Crescent Trail will be closed from 6 p.m. to 6 a.m. from Jan. 10 to Feb. 6 for deer management.
Image via @chris_roell on Twitter
This is, apparently, how streets are planned in Copenhagen.
RideScout's app now makes it easier to avoid being dockblocked while using Capital Bikeshare. (RideScout is a WABA business member.)
Northwest D.C.'s Broad Branch Road has become a commuter route. DDOT plans to rehabilitate it, and one option could add sidewalks and a bike lane…
…However, Casey Trees is opposing that alternative, because it could eliminate tree coverage.
Should bicyclists be taxed? Chicago is currently wrangling with that question.
Photo by Flickr user pedrogringo. Join our Flickr pool!
No lanes in D.C. made People for Bikes' list of top 10 protected bike lanes in the U.S.
High-vis cycling gear might be in style, but one study says it doesn't affect a driver's passing distance.
WAMU tackles two signifiers of DDOT's great slowdown: the incomplete Met Branch Trail and the M Street cycletrack, which may or may not be finished by spring 2014. (Funnily enough, the Metropolitan Washington Council of Governments has clearly stated that the region needs to ease its dependence on driving as transportation.)
And you can watch or read NBC4′s coverage of the Nov. 16 D.C. Council oversight hearing on DDOT.
That said, Voice of America is insistent that cycling is totally an established thing in D.C.
MIT researchers have developed something called the Copenhagen wheel, which can store energy you generate while riding your bike for later use.
Wash Cycle digs into D.C. churches' opposition to bike lanes.
Tons and tons and tons of bikes can fit into one car-sized parking space.
The Hains Point 100 is on Sunday!
Photo by Flickr user ranpuba. Join our Flickr pool!